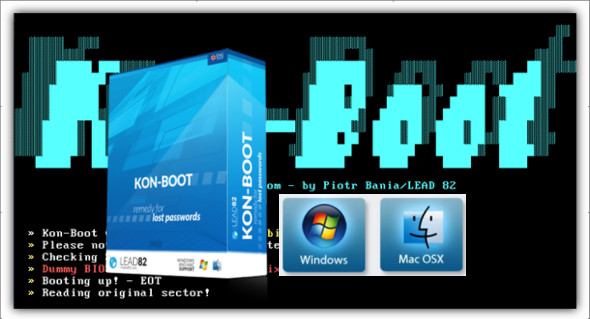 What's up everyone , back with a post for the new year after some time quarantining. The awesome team behind Kon-Boot have released a new version , we actually missed the 3.6 release, but have no fear this new version updates are:
Official support for macOS Big Sur 10.16
Updates for Windows 10
Loader updates
And if you hadnt seen our last post, this new version coming off the heels of 3.5, which had some awesome updates, one of which gave the ability to bypass secureboot on Windows machines (commercial version) without the need for accessing the BIOS/UEFI which would be a pain if the settings were locked with a password etc.
It has been a useful tool for me since I was a tech/sysadmin being able to bypass the login when client gave wrong login passwords, all the way up to my uses on Penetration/Red Team engagements that came in super handy when needing to gain access after physical security was bypassed. It's worth its weight in gold in the time and effort it saves.
Snag a copy from: https://kon-boot.com
Kon-Boot bypasses passwords without actual permanent modifications (unless you want them)*
Kon-Boot works with both Windows and macOS systems*
Kon-Boot is the first and only world known solution to bypass Windows 10 online passwords*
Kon-Boot is on the market since 2008 and is tried and true
* depending on license
Video tutorial for Windows:
        https://www.youtube.com/watch?v=TkW93PcvSj8

Video tutorial for Mac OS X:
        https://www.youtube.com/watch?v=3suNXtDarCo

You can find full documentation, tutorials, FAQ, contact information here:
        https://kon-boot.com/docs/faq/#tutorial-101-basic-howto
        https://kon-boot.com/docs/
Supported Microsoft Windows operating systems
Microsoft Windows XP
Microsoft Windows Vista Home Basic 32Bit/64Bit
Microsoft Windows Vista Home Premium 32Bit/64Bit
Microsoft Windows Vista Business 32Bit/64Bit
Microsoft Windows Vista Enterprise 32Bit/64Bit
Microsoft Windows Server 2003 Standard 32Bit/64Bit
Microsoft Windows Server 2003 Datacenter 32Bit/64Bit
Microsoft Windows Server 2003 Enterprise 32Bit/64Bit
Microsoft Windows Server 2003 Web Edition 32Bit/64Bit
Microsoft Windows Server 2008 Standard 32Bit/64Bit
Microsoft Windows Server 2008 Datacenter 32Bit/64Bit
Microsoft Windows Server 2008 Enterprise 32Bit/64Bit
Microsoft Windows 7 Home Premium 32Bit/64Bit
Microsoft Windows 7 Professional 32Bit/64Bit
Microsoft Windows 7 Ultimate 32Bit/64Bit
Microsoft Windows 8 and 8.1 all versions (32Bit/64Bit — includes live/online password bypass)
Microsoft Windows 10 all versions (32Bit/64Bit — includes live/online password bypass)
Supported Apple macOS / OS X operating systems
Apple OS X 10.6
Apple OS X 10.7
Apple OS X 10.8
Apple OS X 10.9
Apple OS X 10.10
Apple OS X 10.11
Apple macOS Sierra (10.12)
Apple macOS High Sierra (10.13)
Apple macOS Mojave (10.14)
Apple macOS Catalina (10.15)
Apple macOS Big Sur (10.16)